MUSEUM STAFF

The Museum has two full-time seasonal staff, the Director and the Front Desk Receptionist & Gift Shop Clerk. In July and August between 2-4 summer staff are hired under the Federal Young Canada Works or Canada Summer Jobs grants and the Provincial Community Museum Summer Employment Program. Summer staff work either as tour guides and gift shop/admissions clerks, or with artefact accessioning and collections management.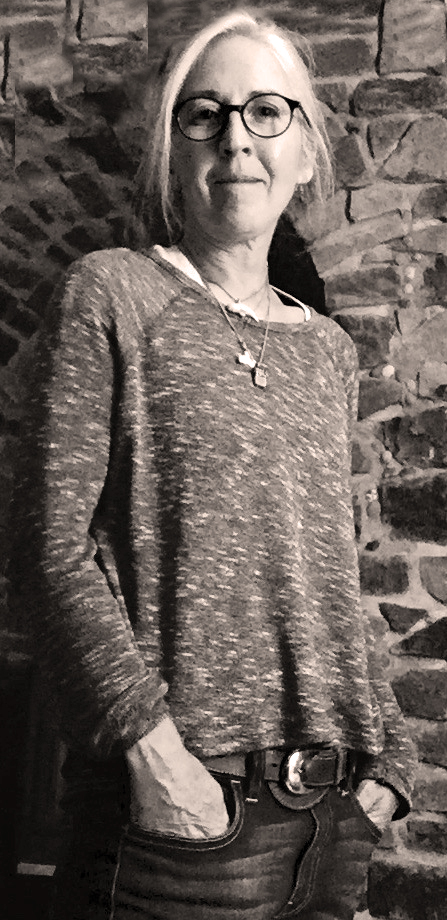 M.J. Edwards
Museum Curator/Director
www.mjedwards.ca
M.J. became the Director of the Museum in 2011. As Curator she is responsible for exhibit creation and renewal. In the off season M.J. works part-time with a provincial funding grant, accepting, accessioning and cataloging new artefacts. As Director she manages all aspects of the Museum (except financial): grant writing, summer employment hiring, supervision of staff, final reports for grants, year-end reports, photo documentation, social media, public relations, media enquiries, evening programming, special events, fund-raising, advertising, gardening, and grounds and building maintenance.
Born and raised in Kingston, Ontario: MJ grew up in southern Ontario but spent her childhood summers on Grand Manan at the family cottage in North Head, one of the original Cleveland Cottages located on Stanley Beach Road. Her family has been coming to the island since the mid 1940s.
Education & Work Experience: M.J. is a multi-disciplinary artist with degrees in English Literature, Mount Allison University (1984), Interdisciplinary Fine Arts, NSCAD University (2007), and Middle & High School Education, UNB Fredericton (2009). Before moving the Grand Manan full-time, she worked for 16 years in administration at Queen's University, including as Administrative Secretary to the Head in the Department of Psychology at Queen's University in Kingston. She was also an active member of the Kingston Photographic Club, winning many Club Awards for her photography, and judging at the Club and National levels of the Canadian Association of Photographic Arts (CAPA).
Artistic Practices: While at NSCAD University M.J. studied primarily photography and painting, but also explored drawing, serigraphy, relief printmaking, computer imaging, and weaving. Since graduation, her continued interest in encaustic painting has led to the production of a large body of work in this challenging but versatile medium. More recently she has also explored abstraction with oil and cold wax, and digital photography and montage. She has exhibited her encaustic and mixed media paintings, photography and ink drawings at museums, libraries and art galleries on Grand Manan, in Kingston, ON, Halifax, NS, and in Saint John, Fredericton, Hampton and St. Andrews, NB. Her recent exhibit Walkabout consisted of 58 digital photographic diptychs with accompanying text on the environment, and was on display in the Elmer Wilcox Memorial Hall at the Grand Manan Museum for 2019-2020. In August 2021 she exhibited Defining Places, a collection of mixed media paintings and collage, at the Grand Manan Art Gallery.
Artistic Influences: Living in the woods overlooking Whale Cove, M.J. finds the daily reality of being surrounded by the natural world, with its processes of growth and decay, where land meets sea, strongly influences the subject matter of her art. Her work as a museum director and curator and her background in literature also keep her mindful of the passage of time and processes of narrative construction. These and other preoccupations and concerns show up in her art. She is curious on many levels and finds that the complexity of life demands more than one way to delve beneath the surface of the multitude of ideas or feelings that keep arising, hence her multi-media approach to art making.
Published Work: Four portfolios of M.J.'s encaustic mixed media paintings and digital photography have been published in the Still Point Arts Quarterly (Shanti Arts, Brunswick, Maine), and she has been featured in more than a dozen of their quarterly publications since the Winter 2016, Issue No. 24, receiving both an Award of Distinction and two Best in Shows for digital photography submissions. The Spring 2022 exhibit features her digital collage work in a themed exhibit called "Mixing Medias". That exhibit and others she has been featured in can be viewed here:
https://stillpointartgallery.myportfolio.com/work
Since 2007, M. J. has lived full-time on Grand Manan with her retired poet husband, Wayne Clifford, her Wire-Haired Pointing Griffon dog and two black cats. Her work in various media can be viewed on her website
www.mjedwards.ca, at her Rocky Corner Studio at 150 Whistle Road, Grand Manan, and on Facebook at Rocky Corner Studio. She is currently represented by The Gallery on Queen in Fredericton
www.galleryonequeen.ca. When M.J. isn't busy working as Curator and Director of the Museum or making art in her Rocky Corner Studio, she is a part-time teacher at the Grand Manan Community School.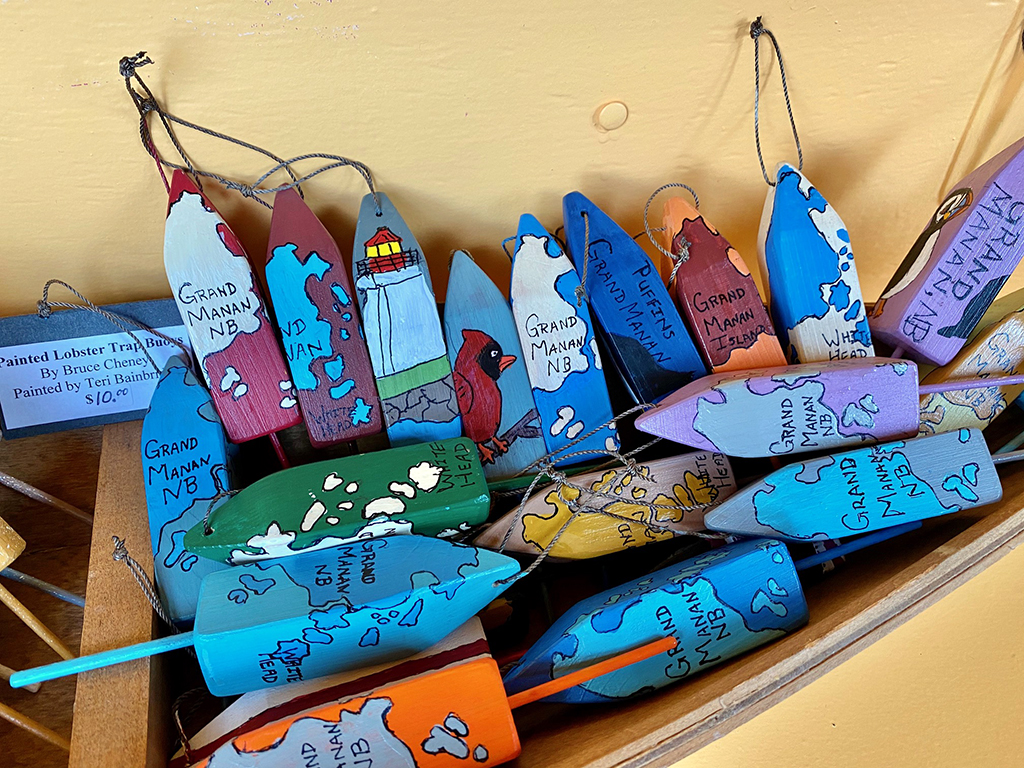 Lorianne Sveinson
Gift Shop Clerk & Receptionist
Lori was born in Moncton, NB, and moved to Grand Manan in the summer of 1980 at age 10. She has many memories of hiking, playing ball, and picnicking at the beach.
Lori attended the Atlantic Baptist College for one year in Business, and At studied Electrical at NBCC. She also studied Travel & Tourism for one year at Oulton's Business College.
Lori has worked at various island jobs, including stringing herring, packing herring at the Connors Bros. sardine factory, working at Newton's Store, Anchorage Park, and Foster's Electric where she apprenticed to ownership. Foster Electric was a three generation family business for 50 Years: Grandfather, Father, and Daughter. Lori worked at Home Hardware after her electrical career and before joining us at the Museum as Gift Shop Clerk & Receptionist.
Lori is married with two children. She is a Tour Guide and will be helping out with that when the cruise ships visit Grand Manan each spring and fall. Lori is still active in sports and plays goalie position on the local women's hockey team.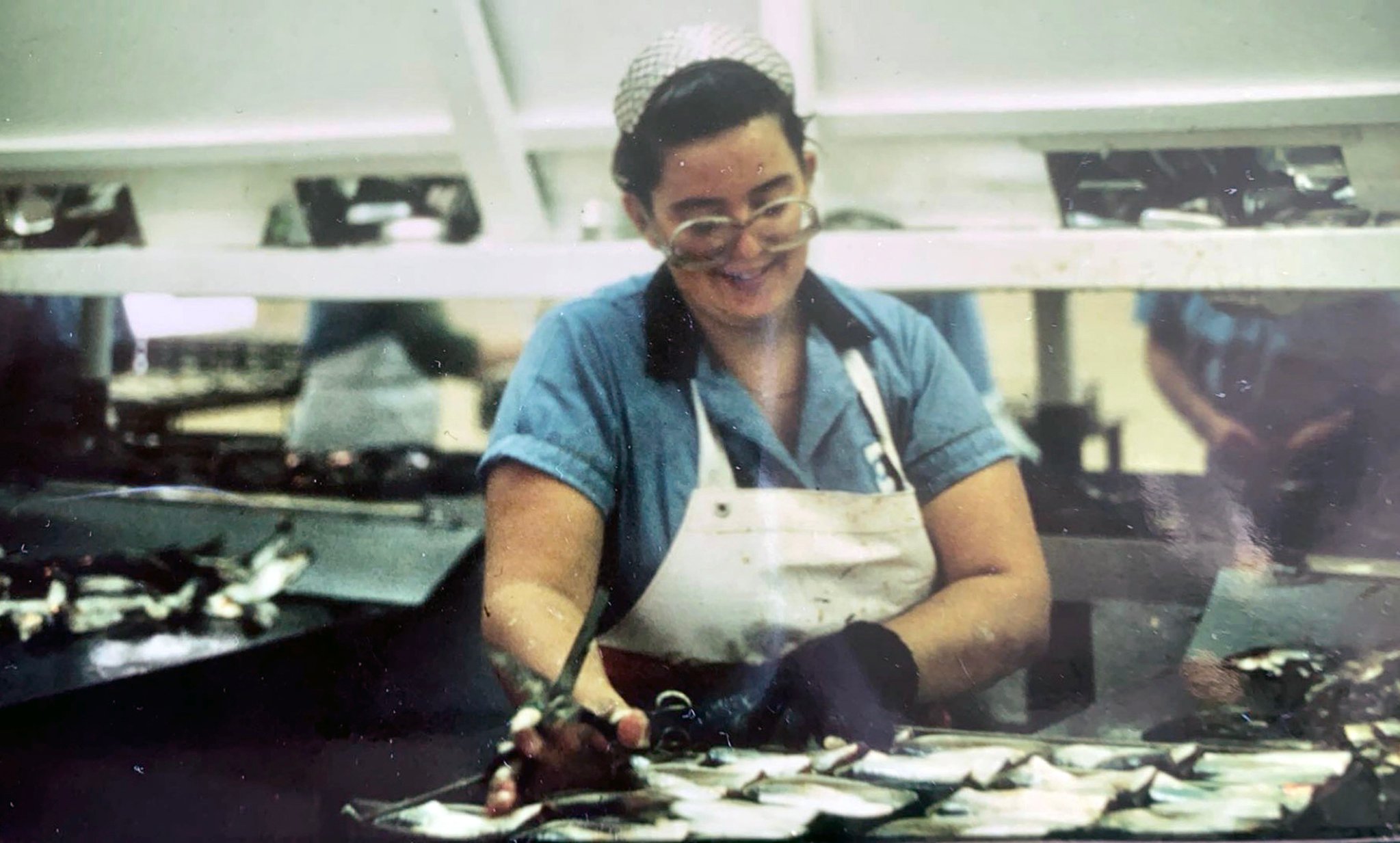 Teri Bainbridge
Past Employee

The 2021 season marked the 15th year that Teri worked at the Museum. Originally employed through the Workability Programme, Teri worked as a fish packer for many years at the Seal Cove Sardine Factory owned by Connor's Brothers, until its sudden closure in 2004. Teri became an indispensable member of the staff. She worked at the front desk reception and took care of many aspects of running the Gift Shop, such as inventory and bank deposits. She also helped to keep the Museum clean. A major change in recent years was a cochlear implant which continued to alter, for the better, the way in which she experienced the world. Teri loved working at the Museum and was a cheerful presence who is missed by many. She retired in June 2022, but we hope to see her visit us in years to come.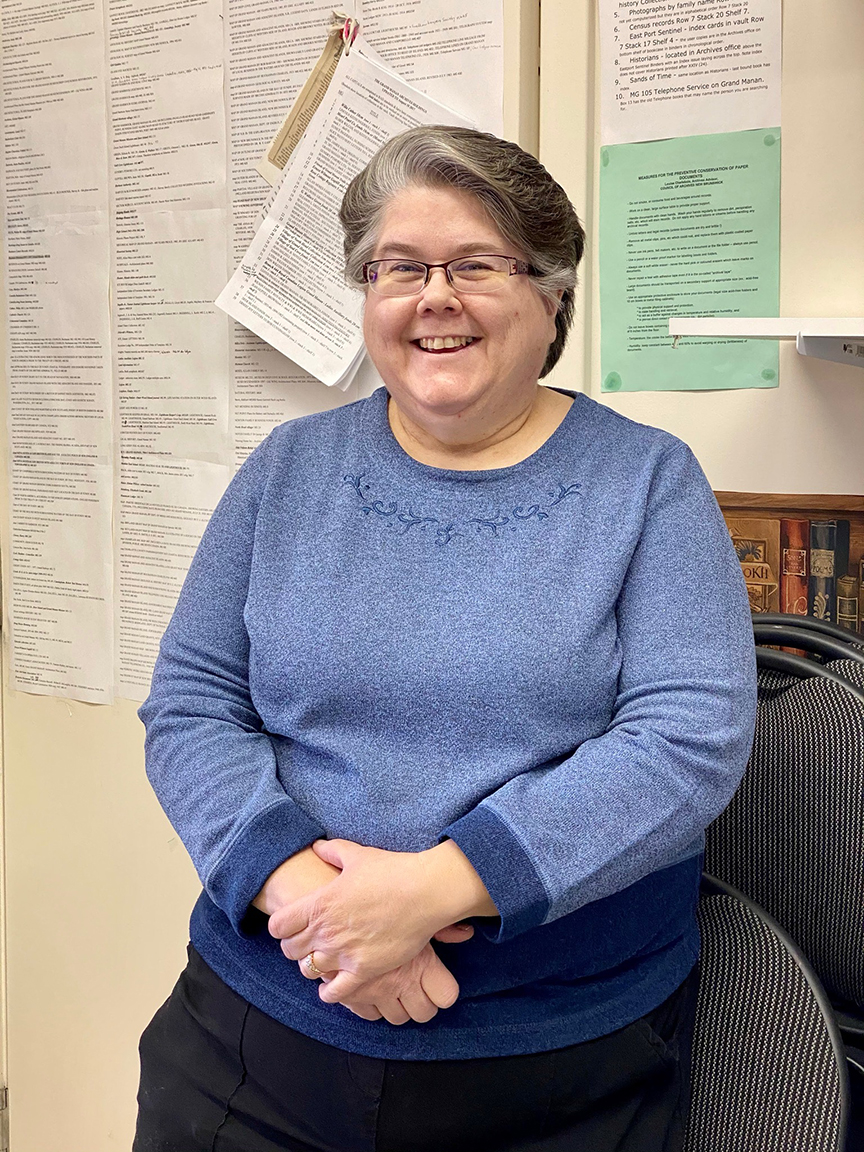 ARCHIVES STAFF
The Archivist position is a part-time volunteer/contract position. There is sometimes a student hired on a provincial grant to work either full-time in the summer or part-time through the school year.
Ava Sturgeon
Archivist
Ava Sturgeon loves her work and has been the Archivist for more than 20 years. Recently she was an invited guest speaker at the Annual Meeting of the Provincial Archives. The Grand Manan Archives has a large, climate controlled vault which houses collections of maps, textual documents, artwork and photography. It also holds the collections of the Grand Manan Historical Society and the former Grand Manan Genealogical Society. As of 2019, Ava works full-time for Service New Brunswick.